I'm so excited to be participating in the 2014 Review Extravaganza! We have some fabulous prizes you could win if you play along with us! All you need to do is grab the button and join in the fun.
(Posts need to be linked by Friday in order to count as an entry.)
You can freshen up on the entry rules by going back to this post.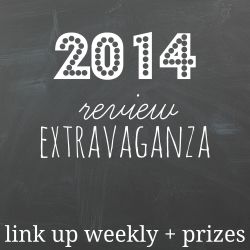 So this week we're going back to January, February and March.
I'm such a dunce. I was trying to remember how I spent New Year's last year and couldn't remember until I dug into my archives and remembered that, um, DUH! I was in Honduras!!
I never did write about just how I spent that New Year's Eve, because it was a little traumatizing. But Honduras overall was a great experience. Except for when a storm knocked out the power and the water for two days.
I announced my 2013 Blog Award winners a little late. But better late than never, eh?
And I shared my overall experience of volunteering with Honduras Child Alliance. It wasn't the most favorable of experiences, but wasn't terrible either.
In February, I broke my arm again. Because, you know, why not?
I was nominated for two awards in Angie's Best of Blog Awards, which was such an honor. Even though I didn't make it to the final round, it really was an honor just to be nominated.
We also had the Olympics. Which seems impossible that it was THIS YEAR, but it's true. Oh, Sochi…Thanks for the memories!
Then Harold Ramis died and I was sad about it. He was a big part of my childhood, after all.
And then I turned 37.
March arrived and I bragged about how I celebrated my birthday with a limo and a fancy dinner. So, SO fun!
I shared my experiences being in a "Mid-Singles" Ward (for ages 31-45).
I answered a very difficult question when I wrote about Mormons and Homosexuality.
And I went to my very first Spring Training!
Then baseball season started and I was a happy, happy girl.
So that's how I spent the first part of the year. How about you? You know you want to join in the fun, so DO IT!