And now I continue with recapping my 2014 for the Review Extravaganza. Which has been one of the weirdest years of my life…
You can freshen up on the entry rules by going back to this post.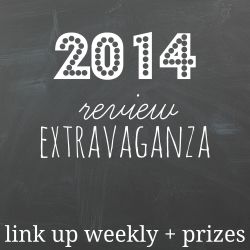 April started out simply enough.
During Spring Break, I had finally gotten around to building an outdoor rabbit habitat for my dear Bruce Wayne. But then I decided he was lonely and needed a friend. So I adopted a baby bunny whom I called
Hare-isson Ford
.
Oh my gosh was this new baby cute or WHAT??? The only problem was that he was a bit of an escape artist and liked to find new ways of getting out of that hutch and disappearing into the yard.
But Hare-isson Ford and Bruce Wayne got along REALLY well, so the escape attempts were just a small annoyance that I finally solved.
I went to visit a friend one day, and when I was leaving her apartment, I discovered that my beloved Hyundai Accent, Smurfette, had been attacked and left for dead on the street.
The next couple of weeks were a blur of insurance settlements and rental cars and buying my may-as-well-have-been-new Hyundai Tuscon, Coco.
Then my dear friend Marly moved away, making me the last member standing in our old Book Club. Everyone else had moved away already. Some not nearly as far as others, but I was literally the only one left.
And then, suddenly, unexpectedly, tragically, Hare-isson Ford died. My heart broke.
He died while I was on my way to the airport to visit my dear friend Stacey and her totes adorbs family in Dallas.
May was kind of a quiet month.
I discovered that my Coco is a bit temperamental when she decided to ruin an awesome night of hanging out with my nephew by refusing to start.
And I threw a baby shower for my friend Jennifer. It was fun, but a LOT of work.
And then June came around and everything changed.
I made a few friends and some enemies by writing a response to a popular blogger's post about religion.
For some reason, I allowed myself to be convinced that running a half marathon would be a good idea.
The weekend of the half, which was in Salt Lake City, my friend Kelli somehow convinced me to join Tinder. I was apparently very easily convinced to do things in June between the half marathon and now dating and especially Tinder, two things I SWORE I would NEVER EVER EVER do.
And yet, there I was, signing up, chatting with some interesting guys, and making dates.
One date that I didn't write about was with this one guy. Divorced, dad, really nice. So nice that I decided to keep him around. In fact, the post I just linked to under "making dates"? In that post, I talk about how I didn't have a man in my life and had no expectations for dating and I wasn't expecting to meet anyone special. I wrote that post the day before I met Chris.
Funny how things change.