If you've read this here blog for awhile, you probably know that I've been living with depression for a really long time.
Over the past year or two, I've made a concerted effort to be more open and honest about my experiences, because I think the more we talk about it, the more we remove the stigmas that say it's something to be ashamed of.
I have several friends in various stages of depression, too. As well as many a blogger buddy.
Depression is rampant, y'all.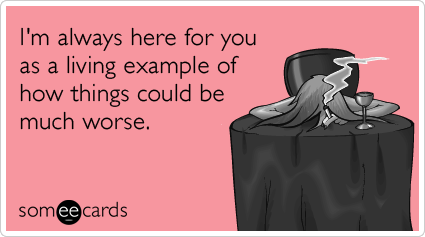 Some are in the throes of post-partum. Others deal with anything from "a little bit down" to some serious bipolarishness.
And the levels/types of depression are as varied as the methods of coping with it.
One friend of mine is depressed pretty much all the time. Serious case of diagnosed but untreated clinical depression. Meaning no counseling, no medication, none of that. But you would never know it because she always slaps a smile on her face and acts as if life is the Best! Thing! EVER!
I want to be more like that.
But I'm not.
I have another friend who deals with her depression by talking about it all the time. Rather, more like All. The. Time. Sad Facebook statuses. Bitter Instagram quotes. Forlorn comments about how everyone's life is so much better than hers.
I want to be nothing like that.
But sometimes I worry that I am.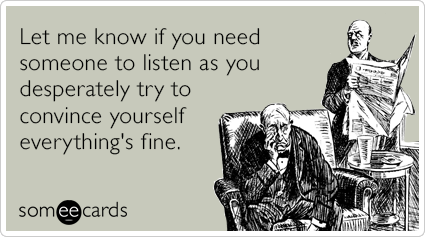 I know in my heart I'm not at that level, but still, I worry about it.
After all, I have that anxiety disorder, too.
Pretty much my coping mechanism is to go to counseling every week and talk about things I really REALLY don't want to talk about, and to take my meds like a good girl. And when I'm feeling particularly blue, I stay away from social media. Because if there's one thing I try to avoid, it's those annoying "poor me" status updates that WAY too many people feel should be forced upon us.
You know the ones I'm talking about.
Trying not to think about where I was one year ago today.
(Then don't make me ask you about it.)
I am so lonely because my only true friend is out of my life. 
(Posted for all of your "fake" friends to see?)
I hate everyone.
(Really? Everyone? Then why are you posting about it on SOCIAL MEDIA?)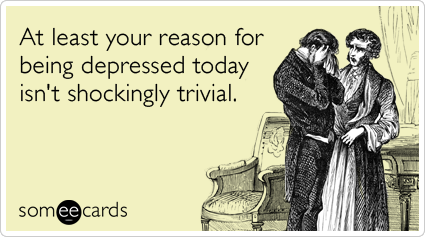 Basically, I think I'm kind of middle of the road when it comes to coping strategies. I'm not overly, abundantly exuberant. That's just not who I am anyway. And I try not to be a Debbie Downer either. Because, really? Why?
So I try to stay somewhere in the middle. Smiling when it's appropriate and withdrawing a little when I just can't do it.
 And that really seems to be working for me. At least, I hope it is. No one has complained to my face, so I think that's a good sign.
What about you? How do you cope with depression? Or even just when you're feeling a bit down?