So, kind of I forgot that I was supposed to write this post for today, and then I fell off my bed this morning and had to go to the chiropractor.
It's a long story that is surprisingly not that interesting, so I'll just say that my back and neck are fine, but I managed to mess up some of my ribs and now it hurts to move.
Which is really not the greatest timing because I have a Very Important Meeting tomorrow and walking in like a little old lady isn't going to be very good for me.
Oh well. That's what I get for doing stupid things like trying to play with the dog.
Anyway, so now I'm supposed to tell you how I totally rocked my July goals and August is off to an awesome start, too.
Except, well…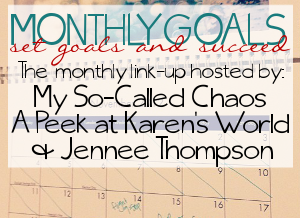 July Goals
♪ Finish four things on my Summer Bucket List
♪ Clean out the linen closet and get rid of old stuff
♪ Wash and vacuum the car
♪ Clean bedroom windows and sills
♪ Start watching The Killing on Netflix
♪ Find 3 new sponsors for The Blog
I didn't do any of them in July. A big, fat, giant ZERO.
I suck.
Except I don't really care because I was busy and working crazy hours and stuff.
Maybe I should care more about the fact that I don't care. Hmm…Something to talk to my therapist about next week, I guess.
Part of me wonders if I should even bother with goals for August. But I have a commitment to myself and so I'm going to give it a big, honest try this month.
August Goals
☺Finish my manuscript!
☺Start editing my manuscript!
☺Finish 5 books.
☺Apply for three freelance writing opportunities.
☺Visit the Lake Ward.
☺Get bank accounts sorted out.
Want to play along? Come on. You know you do….Here's how:
1. Follow all three hosts:
2. Write up your post re-capping last month and sharing your new goals for the next month.

3. Include our button on your post.

4. Add your post to the monthly linky.

5. Visit other participants to cheer them on/commiserate/whatever the case may be.