I know February is a short month and all, but holy cow. We're almost a quarter of the way through the year already. I better get started on my Christmas shopping!
This was a pretty good month. February is always a good month, though, because there are two holidays (no, not that one, the birthday ones) plus MY birthday.
Despite being colossally busy, I managed to do all right with the goals this month. WAY better than January!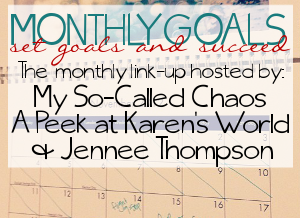 February Goals
♥ Go to two Group classes at the gym.  FAIL!
♥ Finish seeing the Best Picture nominees. (Django Unchained, Life of Pi, Zero Dark Thirty) SUCCESS!
♥ Read 4 books. SUCCESS! (Silver Linings Playbook, What Everyone Needs to Know about Islam, Just One of the Guys, Tangled to Death)
♥ Host an awesome Oscar Party. SUCCESS! (If I do say so myself.)
♥ Coordinate my calendars so that everything is updated on my phone. Still working on it. But getting there.
♥ Have a girls' night with Mom. SUCCESS!
♥ Create a menu plan and stick to it. Hahaha. I totally forgot this was even on my list.
♥ Get Bruce Wayne's nails clipped. SUCCESS! I did it myself!
♥ No watching the news for a whole week. FAIL! It's so hard to give up…
♥ For reals. Watch that Netflix movie and send it back. SUCCESS!! It was The Artist, which I had already seen and loved. I just hadn't gotten around to watching it because there were so many other things to do.
March Goals
♣ Go to Dallas for ACDA.
♣ Go to the gym at least once.
♣ Read 5 books.
♣ Eat breakfast at least 3 times per week.
♣ Get new tires for my car.
♣ Finish 3 chapters of my book.
♣ Add some new music to my iPod.
♣ Get a new blog header made.
♣ Watch two Netflix movies or cancel the subscription
♣ See the Grand Canyon.Want to play along? Come on. You know you do….Here's how:
1. Follow all three hosts:
Jennee Thompson
2. Write up your post re-capping last month and sharing your new goals for the next month.

3. Include our button on your post.

4. Add your post to the monthly linky.

5. Visit other participants to cheer them on/commiserate/whatever the case may be.