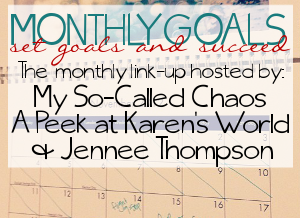 Why hello, February. When did you get here?
January was kind of a weird month. I had all these grand plans of keeping up with the good habits I resumed in December, but then something happened. I don't really know what. But I had absolutely less than zero motivation to do much that even vaguely resembled healthy.
Which kind of shot most of my January goals in the foot before I even got started.
Here's how January went:
• Eat at least 5 fruits and veggies every day. FAIL
• Update direct deposit to add funds to savings account SUCCESS
• Make a plan to fundraise for a new Habitat for Humanity trip.SUCCESS
• Finish reading the Harry Potter books. So close, but FAIL.
• Watch that Netflix movie and finally send it back. Nope. FAIL
• Run 1 mile without stopping HAHAHAHAHAHAHAHA…Um…FAIL
Yeah, so…uh…Coulda been better.
I guess it technically could have been worse, too. Because at least I did finish SOMETHING. Which is better than nothing. Even if only slightly.
But that's okay. I'm dusting myself off and starting over in February:
♥ Go to two Group classes at the gym.
♥ Finish seeing the Best Picture nominees. (Django Unchained, Life of Pi, Zero Dark Thirty)
♥ Read 4 books.
♥ Host an awesome Oscar Party.
♥ Coordinate my calendars so that everything is updated on my phone.
♥ Have a girls' night with Mom.
♥ Create a menu plan and stick to it.
♥ Get Bruce Wayne's nails clipped.
♥ No watching the news for a whole week.
♥ For reals. Watch that Netflix movie and send it back.
Want to play along? Come on. You know you do….Here's how:
1. Follow all three hosts:
Jennee Thompson
2. Write up your post re-capping last month and sharing your new goals for the next month.

3. Include our button on your post.

4. Add your post to the monthly linky.

5. Visit other participants to cheer them on/commiserate/whatever the case may be.