I made a decision.
Every Friday this summer, I'm going to be sharing posts from the past. Posts that some of you have read before, but many others haven't.
My first Flashback Friday post is all about the most terrifying hotel room experience of my life…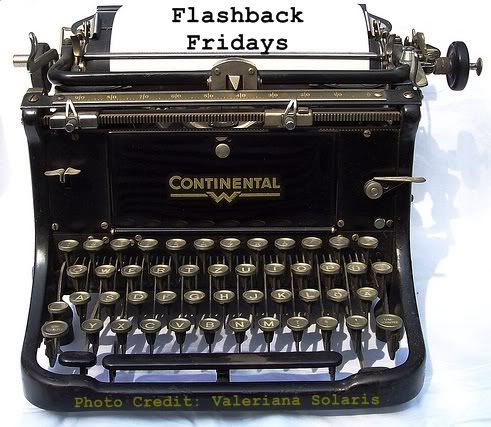 Originally published as: "Confession Wednesdays: Hotel Room Confessions", November 11, 2009…
My friend Dustin was obsessed with Melissa Etheridge. I'm guessing even his marriage to my good friend and former college roommate, Emily, hasn't completely erased his love for Melissa.
(And, seriously, I get it. I mean, Tom Cruise jumps on Oprah's couch and gets a little hostile with Matt Lauer and I still love him.)
(True love is forever, after all.)
(And who hasn't wanted to argue with Matt Lauer at least once on national TV?)
Anyways, one day Dustin was over at our apartment. We were talking about the release of the latest Melissa Etheridge CD when it suddenly occurred to Dustin that this meant CONCERT TOUR.
We bought tickets for March. In Denver.
This post is already going to be ridiculously long, so I'm going to cut out some of the unnecessary background and just skip to the afternoon when we arrived in Denver. Because I had made only loose plans to stay with a friend who lived in town, things fell through at the last minute and we made the trip without a place to stay. Not to worry! we thought. After all, it's a major city with a major airport and a couple of sports teams. They're gonna have hotels.
After crisscrossing Denver for nearly two hours, ridiculously wrong directions from a practical joker/gas station attendant, and a desperate phone call to a friend back in Utah, we wound up in the parking lot of a motel across the street from the concert venue.
The Royal Host Motel.
Sounds like a winner, right?
I could tell right away that something was off. It looked like the kind of place that charged both by the week and by the hour. The cars in the parking lot were in various stages of disrepair and I'm fairly certain I narrowly avoided stepping on a used hypodermic needle.
Exhausted after an eight hour drive from Ogden, Utah, and frustrated from spending two hours lost in an unfamiliar city, we ignored the flashing neon signs that said RUN FOR YOUR LIVES and went into the lobby to check in.
Have you ever stayed at a motel that required a key deposit?
The front desk clerk handed me a key and we took our few possessions up the stairs (since the elevator was out) to room 402.
Room 402 was surprisingly large with two king-sized beds, a table and chairs, the most antique television I have seen this side of the millenium, and a bathroom with enough holes in the walls that we truly believe every bit of business that occurred in that tiny space was broadcast live on the internet.
We didn't stay long. We had a concert to get to, after all, and dashed out the door in a hurry.
What transpired at the concert is fodder for another post, so I'll simply say that it was a really great show, and get back to what happened after.
It was almost 1am when we finally got back to Room 402 and got ready for bed. Dustin went on and on about making eye contact with Melissa.
(It happened. I saw it.)
"I'm going to have no problem sleeping tonight!" Dustin said.
"Me neither," I replied. "I am SO tired."
He bravely pulled back the covers on his bed while I somehow felt safer sleeping directly on top of the comforter. I was asleep within minutes.
Forty-five minutes later, I jerked awake at the sound of the telephone.
**********
Me: Hel–hello?
Mysterious Caller: Are you on Colfax in Colorado?
Me: Huh? What?
Mysterious Caller: Are you on Colfax?
Me: Uh…yeah, this place is on Colfax.
Mysterious Caller: In Colorado?
Me: (Where does this idiot think Denver is?) Um…yes.
Mysterious Caller: Is it snowing?
Me: What?Mysterious Caller: Is it snowing?
Me: Um…no…I don't think so…
Mysterious Caller: And you're in Room 402?
Me: Ye–What? Huh? What?
And then I hung up.
Me: Dustin! Wake up! Someone knows where we are!
(Yeah, I know. Sometimes I say really stupid stuff when I'm freaked out.)
**********
Dustin woke up, sort of, and told me that it was just a mistake and not to worry about it.
About a half hour, I had finally calmed my nerves a bit and was finally on the verge of falling back to sleep when the phone rang again.
"Dustin! You have to answer it this time."
Groggy and half asleep, Dustin answered the phone. For some reason, neither of us remember the conversation that took place, but as soon as he hung up, he called the front desk to talk to the meth addict clerk. He explained that we'd gotten these two very weird calls and that we didn't know what to do about it.
The clerk said if anyone showed up, he would not let them go upstairs.
Big help, Mr. 75-pounds-soaking-wet-after-decades-of-using-heroin. Thanks.
By this time, the table lamp between the beds had been switched on and when Dustin hung up the phone, we noticed something strange on the wall. I can't be certain, but they looked like blood stains.
So, I panicked. I hadn't felt fear like this since the night of the footprints in the snow in Canada.
The phone rang again.
I cried, "Don't answer it! If we just stop answering maybe they'll quit calling!"
Dustin didn't answer.
The phone stopped ringing.
I breathed again.
The phone rang.
"I'm putting a stop to this," Dustin said, reaching over to answer the phone.
Obviously, I could only hear his side of the converation, which went a little something like this:
"Hello?…Yeah, you have the WRONG NUMBER…No, you have the WRONG NUMBER…Quit calling us because you have the WRONG NUMBER…Oh, yeah, WHATEVER." Then he slammed down the phone and called the front desk clerk again.
The clerk's suggestion this time around?
"I can put a block on your phone so you don't get calls from outside of the hotel."
Um, WOULD YOU DO THAT, PLEASE??
Dustin hung up the phone and then got to his feet. He explained that the caller had said, "Put my man on the phone or I'm gonna come up there and kill you both."
Great.
"Grab the chair and put it under the doorknob like they do in the movies," I screeched suggested helpfully.
Dustin grabbed a chair and placed it against the door. It was a full six inches too short to reach the knob.
"Maybe it'll still slow them down," I said, knowing how stupid that sounded.
Dustin grabbed the bottom of his bed, trying to pull it close to the door. The frame was bolted to the floor and he only succeeded in wedging the chair against the door with the heavy mattress.
He disappeared into the bathroom for a minute and I sank down onto the floor between the two beds. All the lights inside the room were turned out and the shade was drawn, but I could see the silhouette of a man pacing back and forth outside, talking on a cell phone. I couldn't hear everything he said, and he complained that the clerk wasn't letting anyone upstairs and that for some reason the phone calls were no longer going through.
Dustin came out of the bathroom. "Um…where are you?" he asked into the near-darkness.
"Down here," I whimpered.
He came and sat next to me, on the carpet of questionable cleanliness. We listened to the man talk into the cell phone as we watched him pace back and forth. I had my own cell phone clutched tightly in my hand, ready to call the police if necessary. This led to a discussion of which law enforcement agency my out-of-town cell would contact if I was forced to dial. And we analyzed the phone calls, dissecting the strangeness of each one. We finally concluded that "snowing" and "blizzard" were code words for "cocaine" and that we were in the middle of a drug deal.
Eventually, the man outside disappeared.
"Let's just leave," Dustin said, sometime around 4:30am.
"No way," I said back. "It's too dark outside. I want the bad guys to KNOW they're shooting the wrong people. We need to wait til the sun comes up."
Around 6, Dustin decided he really needed to get some sleep because of the long drive back to Ogden. We agreed to sleep for just one hour and he was out almost as soon as I acquiesced.
I slept for exactly one hour and woke precisely at 7. I tried to get Dustin to get up and going, but he begged for one more hour. He slept, I didn't. I just wanted to get out of there as soon as possible. I hated Denver and wanted to leave and never look back.
He finally got up at 8 and took his sweet time getting ready. Me? I skipped the shower and brushed my teeth so fast that I'm pretty sure I broke some kind sound barrier.
It seemed like forever before we walked out of that room and shut the door behind us. The sun was bright and safe and I breathed a little easier as we walked down the stairs to check out. I slammed the key down on the counter.
"Thanks for staying with us. Any problems?"
What? You mean other than the gun-toting drug dealers who threatened to kill us in the middle of the night?
"Nope. No problems."
 Have you ever had a terrifying night away?